Toyota Fortuner is a popular SUV known for its ruggedness and durability, making it a preferred choice for many car enthusiasts. To complement and enhance the overall aesthetics of this powerful vehicle, car lovers often seek trendy and decorative car accessories. One such accessory that has gained significant popularity among Toyota Fortuner owners is the footboard.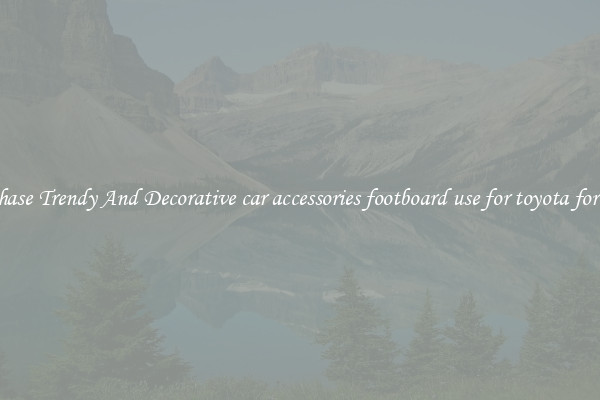 Footboards, also known as side steps or running boards, are a stylish and functional accessory that adds a touch of sophistication and convenience to your Toyota Fortuner. They are specifically designed to provide an easy and secure stepping platform when entering or exiting the vehicle. These footboards are attached to the sides of the SUV, just below the doors, and are available in a variety of designs, materials, and finishes to suit individual preferences.
One of the primary reasons why Toyota Fortuner owners opt for footboards is to improve accessibility. The higher ground clearance and tall body of this SUV can make it challenging for passengers, especially children and elders, to get in and out of the vehicle. Footboards eliminate this inconvenience by providing a sturdy and stable platform, allowing passengers to step in and out with ease. Additionally, footboards also act as a protective barrier, preventing any accidental damage caused by stones, debris, or high curbs.
Apart from offering functional benefits, footboards for Toyota Fortuner also serve as a decorative accessory. They come in various eye-catching designs and finishes, such as chrome, stainless steel, and aluminum, that accentuate the SUV's overall look. The sleek and shiny appearance of these footboards adds a touch of elegance and sophistication, making your Toyota Fortuner stand out from the crowd.
When purchasing footboards for your Toyota Fortuner, it is essential to consider a few factors. Firstly, ensure that the footboards are specifically designed for Toyota Fortuner to ensure a perfect fit and easy installation. Secondly, choose a material and finish that matches your SUV's existing features and complements its overall style. Lastly, opt for footboards that are made from durable and high-quality materials to ensure longevity and withstand harsh weather conditions.
In conclusion, purchasing trendy and decorative footboards for your Toyota Fortuner is a smart choice, as it not only enhances the overall aesthetics of your SUV but also provides convenient and safe access for passengers. Whether you are looking to add a touch of style or improve accessibility, footboards are a valuable accessory that can transform your Toyota Fortuner into a head-turning vehicle while ensuring comfort and practicality. So, invest in footboards today and make a stylish statement with your Toyota Fortuner.