High-Tech Fire Smoke Alarm Devices Designed for Reliability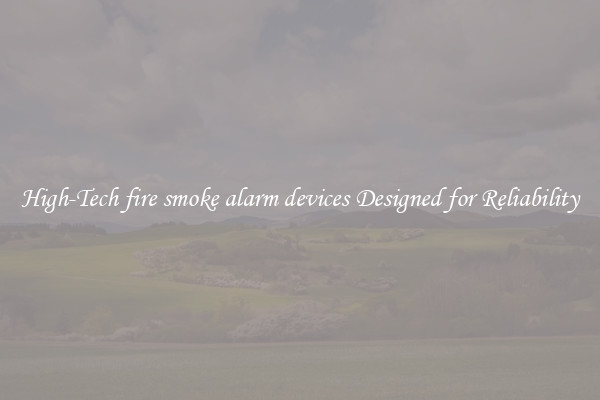 Fire safety is and should always be a top priority for homeowners and businesses alike. One of the most vital tools in fire safety is the smoke alarm. While traditional smoke alarms have undoubtedly saved countless lives, advances in technology have led to the development of high-tech fire smoke alarm devices that are designed for even greater reliability.
Traditional smoke alarms, though effective, have certain limitations. They rely on detecting smoke particles in the air and sounding an alarm when they reach a certain threshold. However, these alarms can sometimes be triggered by non-fire situations, such as burnt toast or steam from a shower. This can lead to false alarms, which can be frustrating and cause people to ignore them when a real fire occurs.
High-tech fire smoke alarm devices address these limitations by incorporating advanced features that enhance reliability and reduce false alarms. One such feature is dual-sensor technology, which combines both ionization and photoelectric sensors. Ionization sensors are highly sensitive to fast-flaming fires, while photoelectric sensors are great at detecting slow, smoldering fires. By combining the strengths of both sensors, these devices can detect a wider range of fire types and provide earlier warning.
Another important advancement in high-tech smoke alarms is the incorporation of smart technology. Smart smoke alarms can be connected to a home's Wi-Fi network, enabling them to send alerts to smartphones and other connected devices. This real-time notification allows homeowners to immediately take action when a fire is detected, even if they are away from home. Additionally, some smart smoke alarms also have voice alerts, which can provide clear instructions on evacuation procedures, further increasing safety in emergency situations.
High-tech fire smoke alarm devices also come equipped with advanced features to reduce false alarms. For example, some devices have the ability to differentiate between smoke and steam, ensuring that they only sound an alarm when there is an actual fire. This is achieved through sophisticated algorithms that analyze multiple data points, such as the rate of rise of smoke particles, to determine if there is a genuine fire emergency.
Furthermore, many high-tech smoke alarms have built-in self-testing capabilities. These devices perform regular tests to ensure they are functioning correctly and alert the user when the batteries need to be replaced or if any other issue arises. This proactive approach to maintenance ensures that the smoke alarm is always in optimal working condition, providing reliable protection at all times.
In conclusion, high-tech fire smoke alarm devices have significantly improved the reliability of fire safety systems. With features such as dual-sensor technology, smart connectivity, and the capability to reduce false alarms, these devices offer enhanced protection against fire emergencies. As technology continues to advance, we can expect further innovations that will help keep us safe from the devastating effects of fires. Investing in high-tech fire smoke alarms is a crucial step towards ensuring the utmost safety and peace of mind for both homeowners and businesses.