The Nokia X Dual SIM Mobile Phone: A Tech Pro with Long-Life Battery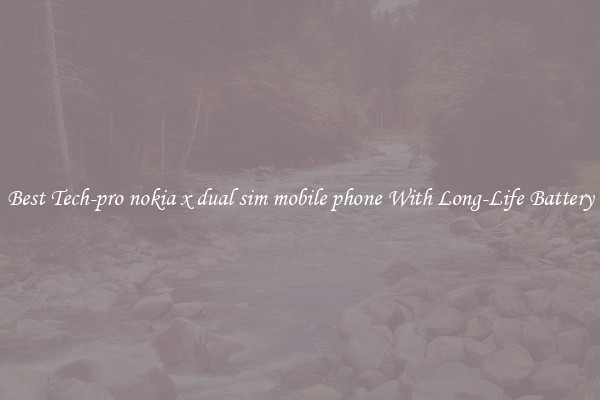 Nokia has long been known for its durable and reliable mobile phones, and the Nokia X Dual SIM is no exception. This phone not only comes loaded with impressive features, but it also boasts a long-life battery that keeps you connected without worrying about frequent recharging.
One of the standout features of the Nokia X Dual SIM is its long-lasting battery life. With a powerful 1500 mAh battery, this phone provides up to 10 hours of continuous talk time and up to 528 hours of standby time. Whether you are a power user or someone who tends to forget to charge their phone regularly, the Nokia X Dual SIM has got you covered. You can now use your phone throughout the day without constantly searching for an outlet or carrying a portable charger.
Aside from its impressive battery life, the Nokia X Dual SIM offers a host of features that make it a tech pro in the smartphone market. It runs on the Android operating system, providing users access to thousands of apps through the Nokia store. The 4-inch display offers clear and vibrant colors, making your videos and photos come to life. The phone also supports dual SIM cards, allowing you to use two different numbers simultaneously, perfect for those who want to manage personal and work contacts in one device.
This Nokia phone also boasts a 3-megapixel rear camera for capturing those special moments on the go. It may not be the highest resolution camera on the market, but it still delivers decent quality images that are suitable for social media sharing and everyday use. Additionally, the phone has 4GB of internal storage, which can be expanded up to 32GB with a microSD card, giving you ample space for your multimedia files and apps.
What sets the Nokia X Dual SIM apart from other smartphones in its price range is its sturdy build quality. Nokia has always been known for its robust and durable phones, and this model is no exception. It can withstand accidental drops and bumps without easily breaking or getting damaged. This makes it perfect for those who are always on the go or work in challenging environments.
In conclusion, the Nokia X Dual SIM is a tech-savvy phone with a long-life battery that caters to the needs of both power users and individuals on the move. Its impressive battery life, smooth performance, and durable build make it a reliable choice for staying connected without the constant need for recharging. If you are in search of a budget-friendly smartphone that offers great value for money, the Nokia X Dual SIM is worth considering.